"In Sharkonomics, Stefan Engeseth bites hard into the future of management."
Daniel Pink, Author of When: The Scientific Secrets of Perfect Timing

"Stefan not only uses the 'shark' metaphor but has actually swam in shark waters to absorb the drama of life and death. He describes the attack strategems of a shark, but respects the intended victims enough to show how they can defend themselves. A stimulating read!!"
Philip Kotler, S. C. Johnson Distinguished Professor of International Marketing, Kellogg School of Management, Northwestern University
"You are swimming with sharks and you may not even know it. Stefan is your guide to not only surviving Sharkonomics but thriving in these adventurous economic waters."
Brian Solis, author of The End of Business as Usual and Engage!
"Stefan Engeseth draws creative parallels to the world of nature and sharks and provides a fresh look at business and defense tactics. Sharkonomics is not to be missed!"
Merci Olsson, Marketing and Communications Director, Nobelprize.org
"Stefan Engeseth is really a star and brilliant on stage! The audience loved his Sharkonomics lecture!"
Lauri Sipilä, CEO, Finnish Marketing Association
"Finally something new and fresh! Straight to the point!"
Tonje Elisabeth Aaroe, Industry Manager, Google
"A very good advise is to read Sharkonomics before your competitors!"
Michael Raffnsøe, CEO, Danish Marketing Association
"Working with IT security is like constantly swimming with sharks."
Fredrik Forslund, Vice President, Blancco Technology Group
"One thing is certain. The companies that are not constantly moving and developing will sink as shark to the bottom."
Mariann Eriksson, Director of Marketing, World Wide Fund for Nature / WWF
"Stefan Engeseth is brutally inspiring. Sharkonomics will definately rock your boat. Or sink it!"
Jan Morten Drange, CEO, Norwegian Advertisers Association

"In this book Stefan dives in the deep blue to compare natures natural way of hunting with today's business climate. Again he gives us a new way of looking at our own market and competitors; you need to dare to hunt to stay a market leader in your business."
Jenny Näslund, Marketing Manager, Comedy Central Sweden, MTV Networks
"Sharkonomics is a great companion for anyone in advertising dealing with market leaders and their competition."
Calle Sjoenell, Deputy Chief Creative Officer, Bartle Bogle Hegarty, USA
"Businesses have plenty to chew on in Sharkonomics."
Bizsugar
"Stefan Engeseth shares strategic tools in Sharkonomics for thought leaders in how to attack and how to defence your business in an ocean filled with sharks."
Luis-Daniel Alegria, Director of Digital Product, CVC CORP
"There's a fine line between genius and insanity. Walk the line with Sharkonomics if you dare."
Micael Dahlén, Professor, Department of Marketing and Strategy, Stockholm School of Economics
"Sharkonomics will inspire the retail business to move into new feeding grounds."
Magnus Kroon, Director Business Development, Swedish Trade Federation
"Sharkonomics gives you the tools to attack and to survive depending on where you are in the ocean of companies. Terrific and terrifying reading guaranteed."
Jesper Ek, Head of External Affairs, Roche
"Sharkonomics shows how to surprise the competition in a strategic way to ultimately stay ahead of the market. It's an excellent read for today's and tomorrow's leaders, who are looking to understand where to focus their attention to build and scale an enduring, fast-moving organization."
Therése Gedda, Keynote Speaker, Founder and CEO of 30minMBA
"In the music business is Sharkonomics an effective tool to adapt and evolve, due to new technological and digital advances."
Terence Q. Dudley, President, Quentin Entertainment Inc
"It's about time someone took competitive strategy thoughts to the phase of the 21st century. Stefan Engeseth always has new and surprising angles on how companied should create enduring business success."
Carl Wåreus, Head of Agency, Google Sweden
"Stefan Engeseth is one of the most unique thinkers in business today--continually challenging us to find to new ways to win in the most crowded marketplaces. In Sharkonomics he's at it again, showing how easy it is to take a bite out of your competition by learning from sharks. Read it before you head back in the water!"
Alan Gregerman, Author of Surrounded by Geniuses and President of Venture Works
"It is a terrific book and an innovative and fresh approach."
Marie Levine, Executive Director, Shark Research Institute, USA
"Market leaders beware, domination is history."
Colvyn Harris, CEO, JWT India
"This is sharp. For real."
Charlotte Wik, Communications Manager, Odd Molly

Why Sharkonomics?
As Sir Richard Branson has said:"To survive, companies have to behave like sharks – if they don't keep moving they will drown." With digitalization, business is now as competitive as Nature, where everyone is on the menu. There are no longer limitations in terms of countries, markets or segments. Digital sharks such as Amazon and Alibaba are moving across the globe towards anything they can feed on. This increases the need for management to update itself in both attacking and defensive moves.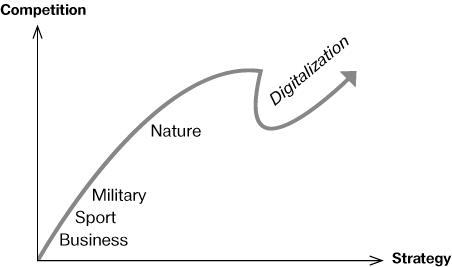 Sharks are one of Nature's most revered and feared predators. But if you study their behaviour, you will learn that they are also highly strategic and efficient in the way they survive and thrive in Nature's competitive environment. Inspired by the shark's evolved (over 420 million years) instincts and strategic moves, this original and inspiring book provides businesses with 10 ways to attack market leaders and take market share. On top of that, it offers defence tactics against attack for those companies seeking to protect their market share.

Guest Professor Stefan Engeseth lecturing Sharkonomics

Take a bite, free download
Book Sample (PDF).
Lecture slides (samples) (PDF).

Speaker presentation: English and Swedish.
Consultancy services: Info and PDF.

News: Book release of "Sharkonomics 2". 75 million readers of Sharkonomics? 10 points for smaller sharks. Defend your market.
Table of contents
Preface
Introduction
Foreward by Chris Fallows
Part one: 10 points to attack market leaders
1. Start planning long before your attack
2. Don't get stuck in history
3. Spread panic
4. Do market research the shark way
5. Find blind spots to bite
6. Strike unpredictably
7. Timing is key to successful attacks
8. Move or die
9. Kill with style
10. Write a Sharkonomics "attack list"
Part two: 10 points for market leaders how to defend themselves from shark attacks
Introduction: Defence
1. Develop your defense strategies years before you get attacked
2. Never stand still
3. Let others spread the buzz
4. Don't panic when under shark attack
5. Find out where your blind spots are
6. When entering a new market, don't send out press releases too early
7. Sharks will not attack you if there is an easier target around
8. Don't act like a victim
9. Attack is good defence
10. Develop better escape tactics than the hunter
Part three: 5 points to optimize Sharkonomics
Introduction: Read, swim and bite hard
1. Fat and happy vs. Digitalize or die
2. The value of business speed
3. Below the surface (what's in the water?)
4. Sharkonomics management tool
5. ???
Mother Nature's endword
Acknowledgments
Author biography
Notes
About the author

For press release, book cover, shark pictures, author portrait, bus and graphics go to press room. © 2012-2020 Stefan Engeseth. When quoting the book or website please quote the source: www.Sharkonomics.com.
"Sharkonomics provides sharp insights into what drives success in today's disruptive business world."
Marshall Goldsmith, NYT bestselling author, and two-time Thinkers 50 #1 Leadership Thinker
"Sharkonomics readies the reader for the required patterns to survive in a global ocean of competitive business."
Don Brancato, Chief Data Architect, The Boeing Company
"Sharkonomics is a wake-up call for the need to change."
Hanna Riberdahl, CEO, The Association of Swedish Advertisers
"I often hear people talk about 'thinking outside the box'. After reading Sharkonomics, I have proof that Stefan Engeseth is one of the people I have met in my life who really thinks and lives outside the box!"
iPeter Ahnell, Fintech Solutions, DNB Bank

"Stefan's book Sharkonomics is blood for sharks and steel cages for their prey."
David Charron, Haas School of Business, UC Berkeley
"Stefan Engeseth offers a completely original point of view -- rooted in centuries of natural history -- to address an age-old problem. It is sure to challenge and illuminate how you think about competing in the marketplace."
Kevin Lane Keller, Professor of Marketing, Tuck School of Business at Dartmouth
"Sharkonomics is refreshingly to the point and gives even the mildest mannered goldfish sharp teeth to bite with."
Maria Bergman, President of Swedish American Chamber of Commerce Chicago
"It is a sheer battleground out there; lots of 'strategies', 'tactics', 'attack plans'... Sharkonomics is not about survival of the fittest, but of the 'misfit' who has a streetwise cunning, coupled with imagination and creativity."
Nilgun Carlson, Senior Corporate Communications Manager, Oriflame Cosmetics
"Catch a wave of the groundswell and surf the social web with Sharkonomics! Stefan Engeseth's book will take off and swim by itself."
Martin Lindeskog, blogger and social media evangelist
"A damned good book, Sharkonomics."
Guy Clapperton, Author and social media expert, UK

"Stefan Engeseth never fails to surprise. His logic of taking his inspiration this time from nature—with the simple yet poignant question: "How have sharks survived for millions of years?"—has yielded a business book with teeth, and some pearly whites of wisdom."
Jack Yan, CEO, Jack Yan & Associates. Director, the Medinge Group, New Zealand
"Nature, red in tooth and claw, can be a great teacher. Stefan Engeseth has taken one of its lessons, that of the great sharks, and used it to present a view on strategy that pounces rather than plans and emphasizes movement over models. Sharkonomics is fast, ferocious fun."
Professor Alf Rehn, author of Dangerous Ideas
"This book has bite. It's snappy too. I urge everyone to get their teeth into it."
Stephen Brown, Professor of Marketing Research, University of Ulster
"Market leaders beware, Sharkonomics reveals the vulnerabilities and strategic insight needed to challenge leading brands."
Derrick Daye, Global Brand Strategist, Author, Branding Strategy Insider
"It's brilliant – to serve the result of millions years of shark evolution for business. Sharkonomics develops one's instincts and loads of highly impulsive acts - but only for those who read the book."
Gisle Dueland, Marketing Manager, Turkish Airlines

"He has done it again! Stefan Engeseth shows his knack for communicating the essentials of business success."
Evert Gummesson, Professor of Marketing,
Stockholm University

"Stefan Engeseth gets to the point again. Silent waters as well as markets are most dangerous in these days and we need to be proactive to survive."
Ritva Hanski-Pitkäkoski, CEO, Association of Finnish Advertisers

"A fresh, easy-to-read and thought-provoking book. Stefan Engeseth has in Sharkonomics captured the essentials explained them lucidly and serves us food on a platter only accessible to sharks. A must read for any business decision maker."
Carlos Viladevall Passola, Managing Director, Posterscope Iberia, Spain
"Vital business insights from deadly sharks is what Sharkonomics provides."
Manoj Aravindakshan, Managing Director, On Target Media, Singapore
"Market leaders: Keep moving! Sharkonomics is a brand new view to the global marketplace."
Eirik Hokstad, Chairman of the board, The Norwegian Market society
"Stefan Engeseth is encouraging us to welcome the unpredictable."
Yann Mauchamp, CEO, Mutual Benefits, France

"Stefan Engeseth is a marketing thinker and an entrepreneur par excellence. It is time to start thinking like a true predator thru Stefan's new book, Sharkonomics. Unlike the shark, no business has endured over 400 million years - we should start learning from the sharks instead of hunting them to extinction."
Ami Hasan, Founder and chairman, Hasan & Partners, Finland
"Stefan Engeseth took a plunge with sharks so that we can open our eyes for blind spots to attack the market."
Akram Raffoul, Executive Director, Jacobsons Direct, Dubai